18
Apr
Netflix Earnings Ahead
After the US session closes, streaming giant Netflix (NFLX.US) will present its Q1 results. In addition to the report itself, investors will pay attention to subscribers, advertising revenue and efforts to end password sharing on the platform. The results can also be seen as an indicator of overall consumer sentiment and the health of other streaming and entertainment companies including Warner Bros Company (WBD.US), Paramount (PARA.US) and Disney (DIS.US). What to expect in the results?
Revenues: $8.17 billion (4% y/y growth) vs. $7.87 billion in Q1 2022 and $7.85 billion in Q4 2022
Earnings per share (EPS): $2.86 (20% y/y decrease) vs. $3.53 in Q1 2022 and $0.12 in Q4 2022
Number of subscribers: 2.3 million increase vs. 0.2 million decrease in Q1 2022 and 8.9 million increase in Q4 2022.
From Q4 2022, Netflix will not present forecasts of estimated number of subscribers In Q4, currency factors negatively affected results, now the impact will be limited;
The market wonders if the platform's new policy with ads has influenced a possible exodus of some subscribers – at the price of higher profits for the company. Investors are also awaiting a policy announcement in the US market;
Netflix had $1.6 billion in free cash flow in 2022 and estimates it will grow to $3 billion in 2023. Analysts will pay attention to whether the dynamics in Q1 will 'defend' such an optimistic forecast.
Analyst opinions
The Bridge Group: Pognosis 40 million advertising platform subscribers by the end of 2023 unrealistic in view of high competition and subscriber uncertainty
Wells Fargo: The number one topic may be the fight against account sharing in the US, still no official announcement. Analysts expect the company to make a final positive statement about expanding 'regulation' in the U.S;
Lumley: Sunday's mishap by which Netflix failed to live stream the series 'Love is Blind' may result in an exodus of subscribers and implies technical problems with the new 'live streaming' initiative;
Jefferies: In view of the early stage of the advertising business and paid adwords sharing, any commentary on user decisions or new advertising offers will be more important than results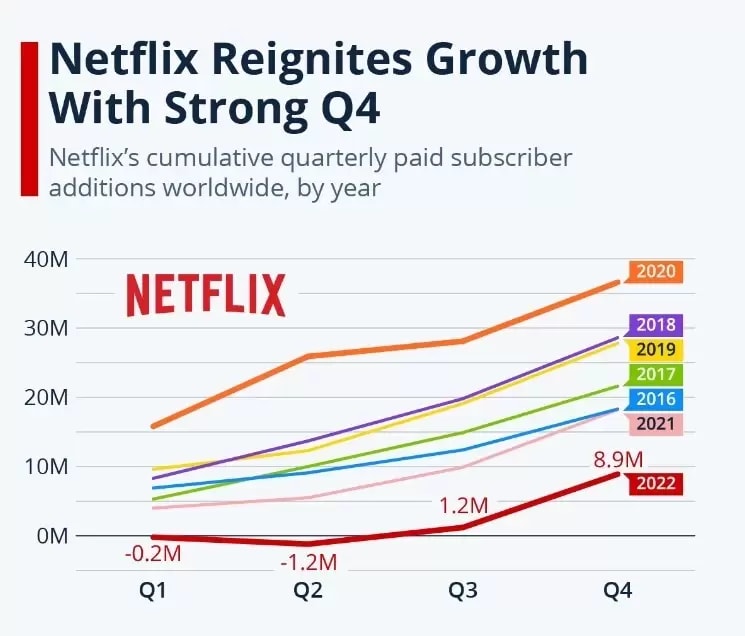 Netflix reversed a downward trend in the second half of last year. Its recent impressive subscriber growth of 8.9 million may be very difficult to beat k/k although on a y/y basis the company will almost certainly see robust growth (down 0.2 million in Q1 2022). Source: Netflix, Statista
Options market
The options market expects significant volatility in the company's stock in the near term, due in part to today's earnings report. Options are currently pricing in a higher probability of an increase in Netflix's share price (the so-called call skew). By itself, of course, the behavior of the options market does not determine the ultimate rise or fall in price.
The bar is getting higher
Investors will expect positive forecasts and further evidence from Netflix, confirming its dominance in the streaming world. The basis will likely be subscriber growth. The prospect of a weakening economy and increasing competition means that the company may have a 'difficult task' in the coming quarters. The relatively high valuation means that the bar through which Netflix must jump to avoid disappointment is being set higher and higher.
Netflix (NFLX.US), D1 interval. The price is at the 23.6 Fibonacci retracement of the upward wave initiated in the summer of 2022. A potential dynamic breakout could result in a test of $370 per share. In turn, declines after the report could bring the bulls closer to defending the 38.2 retracement at the psychological support of $300 per share. Source: xStation5